Regals to play N.O.T.L. Thunderhawks in 1st Round of OJBLL Playoffs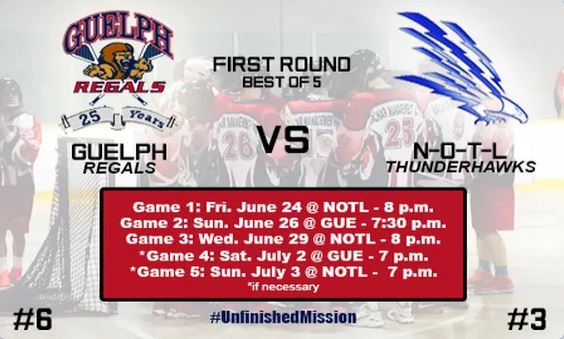 When the final horn sounded on the Guelph Jr. B Regals' regular season on Sunday evening – an 8-7 victory over Owen Sound – they clinched the sixth seed in the Ontario Junior "B" Lacrosse League's Western Conference, setting themselves up for a first round battle with the Niagara-on-the-Lake Thunderhawks.
In their only meeting of the season, the Thunderhawks edged Guelph 6-5 in what was a thrilling game from start to finish at Galt Arena Gardens in Cambridge. In that game back on May 14, the Regals' Jay Milne broke a 4-4 tie to give the home team a one-goal lead with just 5:21 left to play in the game. Niagara's Brandon Sveda knotted the game at five shortly after and Zach Luis scored the eventual game winner with a mere 1:23 remaining in regulation. 
Although the two teams only squared up for one game in the 2016 season, Junior "B" lacrosse fans are in for a treat should the series be anything like their lone mid-May meeting.
Both teams have made significant moves in order to boost their lineups since then. In the weeks leading up to the OJBLL Trade Deadline, the Thunderhawks added fifth-year left-offensive player Everett Milberry from Welland, the team that he had spent his entire Junior lacrosse career with up until his trade to Niagara. The Regals made some moves of their own before the June 18 deadline, having acquired O Bryce Mayea (from Hamilton), D Cody Brown (from Newmarket) and on Monday picked up O/T Ryan Carruthers from London. 
Both Guelph and Niagara have the offensive firepower to blow the series open, however, that seems unlikely given the steady defence and solid goaltending each squad brings to the table. 
The series will kick off when Game 1 begins Friday night in Niagara at Meridian Credit Union Arena in Niagara-on-the-Lake at 8:00 p.m. Here is the entire schedule for the first round:
Game #1: Fri. June 24 @ Niagara – 8:00 p.m. (Meridian Credit Union Arena)
Game #2: Sun. June 26 @ Guelph – 7:30 p.m. (Galt Arena Gardens)
Game #3: Wed. June 29 @ Niagara – 8:00 p.m. (Meridian Credit Union Arena)
*Game #4: Sat. July 2 @ Guelph – 7:00 p.m. (Galt Arena Gardens)
*Game #5: Sun. July 3 @ Niagara – 7:00 p.m. (Meridian Credit Union Arena)
*if necessary